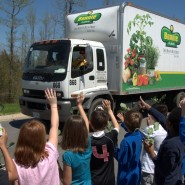 In 2002, Bonnie Plants started the 3rd Grade Cabbage Program with a mission to inspire a love of vegetable gardening in young people. Each year, we distribute more than one million free cabbage plants to 3rd Grade classrooms across the country*. As part of the program, Bonnie Plants awards a $1,000 scholarship to one student in each state. Teachers submit a class winner and a child is chosen via random drawing by each state's Director of Agriculture.
As one of the first companies to sponsor a national vegetable gardening initiative for kids, Bonnie Plants has delivered over 11 million cabbage plants nationwide, fostering an interest in gardening, healthy eating, and the environment along the way.
"The joy of gardening and the satisfaction of growing healthy food are gifts that kids never outgrow," says Stan Cope, President and CEO of Bonnie Plants and grandson of founders Livingston and "Miss Bonnie" Paulk. "We're grateful for the opportunity to share these gifts with the next generation of gardeners."
Why a cabbage? It was the first plant sold by our company in 1918. The cabbages are the O.S. Cross variety, which is known for producing giant, oversized heads, making the process even more exciting for kids. Some kids have grown cabbages weighing more than 50 pounds! Seeds for this program are generously donated by American Takii seed company, the breeders of O.S. Cross. This is an impressive old variety that was an All-America Winner in 1951.
Click here to find out how the program works.
* Exclusions: Alaska and Hawaii.
Any member/employee/immediate family of Bonnie Plants and/or a Bonnie Plants affiliate is not eligible for inclusion and/or participation in selecting a class winner and/or the random selection of a state winner. The term "immediate family" includes children, step children, siblings, step siblings, grandchildren, spouses, parents (including in-laws), step parents, and grandparents.